"My goal? To always be remembered for my hard-core creativity."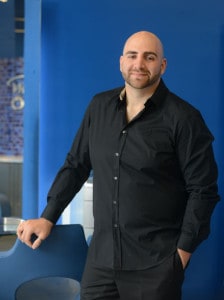 "I never trust anyone who says they're happy with where they are." So begins the concept that is Nash Noufal, internationally trained hair colorist, hair cutter and hairdresser. He is dedicated to his craft, his profession and his art; considers change to be the ultimate goal; and refuses to be content when it comes to anything. To prove it, his extracurricular interests range from legal issues to finance, and he is constantly engaging in continuing education to better his craft. He is also heavily involved in the family business. Care to guess what that is?
Noufal is a second-generation hairdresser, one of 27 hairdressers in his large family. Both his mother and father are hairdressers. He apprenticed under his father, Henry, a European sensation, teacher and legend; his uncle is the acclaimed curly hair guru, Elie Noufal Gerdak. Nash's clients fly in from New York for his sought-after styles. He also has clients who are hairdressers.
Nash has participated in numerous photo shoots, with his work appearing in Passion magazine, the Washingtonian, the Washington Post and NOVA Living. His salon has been ranked #1 in cut and color for a number of years, and he has put his education to work expanding the family business. That education? A bachelor's degree in business from George Mason University.
"I was born to be in the business of hair," says Noufal. "When I see hair, I see the cut, I live the color. It's what I love. It's my passion." Noufal sees the potential for beauty in each client, instinctively knowing that anyone can change for the better with an amazing cut, color and style. He thinks of hair as the ultimate accessory, alongside makeup and fashion. It is his goal to make sure that all work together to create the look.
In order to create that look, Noufal attends educational training classes a minimum of four to five times each year in some of the most culturally diverse and exciting cities in the country: Los Angeles, New York and Dallas. He travels extensively, visiting hair shows in Paris, Milan, Dubai, Montreal and more. He is recognized for his creative abilities and artistic ideals, and already brings a distinctly European flair to his own impressive style. He doesn't have tattoos, extensive piercings or even hair; and always dresses in various fashion-forward shades of black.
The business of hair remains the focus of his life. He's spends most of his time in the salon, and teaches other hairdressers on Sundays and Mondays. He also believes that good hairdressers can be born or they can be taught, and that "great hairdressers are both."
Noufal is currently a platform artist for Tony & Guy/TIGI, performing for hairdressers around the United States, and works with the company's international creative director, showcasing the latest creative trends in hair cutting and styling.
"It's like a concert. We cut what's in for the year, what's hot, and then the models strut the stage in a completely different kind of fashion show." He knows that the world changes; he believes that the team must change with it. "If you're content, you don't grow. It's as simple as that. And everyone needs to grow."
Meet Nash Noufal, unconventional hairdresser. Change artist.
Henry Noufal – The Legend
Henry Noufal's hands just seem to move by themselves. As the top hair stylist at Urban Halo Salon, he is booked 98% of the time. He works a full day without tiring. His customers give him freedom to do what he wants, and they are never disappointed.
In fact, some of his customers have followed him from Georgetown to Landmark to Arlington. Others have moved away, but always visit Henry when they come into town. It is an understatement to say that his hair styling is legendary
"Henry is consistent," said Henry's son, Nash Noufal. "He never gets it wrong."
According to Nash, Henry Noufal is the 'creative director' at Urban Halo Salon in Arlington, VA. A veteran in the hair styling business, he works with the other stylists on a daily basis.
"He helped build an image that has carried the family for three decades," said his son, Nash Noufal.
Henry has been cutting hair since he was a young boy. At the age of 14, he started working in a salon in Lebanon, helping to wash hair and blow dry. It wasn't long before customers started saying, "Oh, let Henry do it."
He started cutting hair for his mother's friends and when he turned 18, he and his brother opened their own salon. It was called Salon Noufal and was one of the first unisex salons in that area. Eventually all of his nine brothers and sisters joined the hair styling business in one form or another, as well as his cousins. At last count, there were 25 Noufals in the hair styling business.
Henry spent time in both Paris and Lebanon, coming to visit the United States in 1976. He moved to the United States in 1985 and opened Salon Noufal that same year. He quickly became known in the business and built up a clientele with politicians, lobbyists, business people – and people who just wanted the best in hair styling.
In 1985, they decided to move to the Landmark Mall in Alexandria, VA, where they stayed for 20 years. They kept the signature name and Noufal Hair Design, Landmark, quickly grew in popularity as well. While many former clients followed Henry to the new location, they attracted many new clients as well.
Last September, Nash Noufal and his father opened Urban Halo Salon, Creation by Noufal. This hair salon in Arlington in VA is located on Clarendon Boulevard. The design was inspired by life-changing events in Nash's life and is very chic. Already, it has become the place to go for innovative hair styling.
Henry continues to travel to Paris and is always on the cutting edge of trends in hair styling. They were one of the first to do foils, and also helped to introduce the Brazilian Keratin Treatment.
Even as Henry keeps up with new trends, he still has the history of the past 40 or so years (even though he says he's only 39!). Hair styles have come full circle, and now the 70's looks are in style again.
"Henry can change [how he styles] at any moment," said Nash Noufal. "He can adjust and see in the future or do styles that were popular years ago."